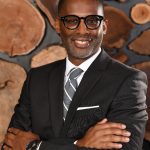 Sandy Maclin
Principal Broker
A little about me
Real estate has always fascinated me since growing up in Cleveland, Ohio. I was amazed at the various homes for sale, the signage, the architecture designs and who was buying these homes. I began to envision my name on the signage on the lawns of homes. I guess you can say I was captivated by the profession at an early age. Not knowing what a REALTOR was at that time; what I did know is that I had a passion for real estate.
Upon the discovery of real estate, I felt compelled to learn more about the industry. This led me to attend the University of Cincinnati College of Business where I obtained a dual Bachelor of Arts Business Administration degree in Real Estate and Marketing. I have been licensed since 1996 in Ohio, Georgia (2006), and Florida (2015) as a REALTOR with over 25+ years of experience. And local, state and national accolade for sales & listing leader, and as a "30 Under 30" Honoree in 2001 from the National Association of REALTORS. As an avid learner, I further went on to obtain a Master of Divinity degree from the Interdenominational Theological Center (Atlanta, Georgia), and a Doctor of Divinity degree from Ashland University (Ashland, Ohio). These academic pursuits were more inclined to assist me in the "discovery of self" and how my "horizontal and vertical faith seeks a greater understanding that leads to action".
After years of engaging in this process I discovered that I wanted to bring this theory into a praxis by starting a "production-centric" real estate brokerage, Sandstone Realty. I realize real estate can change lives and give people the opportunity and service needed to obtain their goals. As the Principal Broker it will be my professional obligation to ensure associates of Sandstone Realty are being the best ethical professionals while serving the needs and interest of their clients and commitment to coach agents to reach their career objectives.
Our objective as your real estate consultant will be to assist you as a professional by advising and coordinating the entire selling of your home and search for the best opportunities for a new home, and not just what's most convenient during the process. We work from data and our experiences as professionals to assist with the decision-making process to ensure clients are making well informed decisions.
When you work with me and any associate of Sandstone Realty, you will know that we are committed to your success. We are consummate full-time professionals with strong negotiating and communication skills, highly resourceful, knowledgeable, and results oriented. And we are positive, focus and committed to goals. That is why clients have established confidence and trust knowing we are providing them with the best quality of service.